Overview
Overview of business in Vietnam – The new Southeast Asian tiger economy, Vietnam has shown a robust growth in the last years. With a large and dynamic population, the country has emerged to come at the forefront of international trade and become a very attractive target for international investments.
Official country name: Socialist Republic of Vietnam
Capital: Hanoi
Total Area: 332,698 km²
Government: Marxist–Leninist single-party state
Currency: đồng, đ – VND
Drives on the: right
Calling Code: +84
Internet TLD: .vn
For detailed data of Vietnam business environment, please contact us
Demographics
Population: 92,700,000 (2016 Estimate)
Population Density: 276.03/km²
Official Languages: Vietnamese
HDI: 0.683 (medium)
Ethnic Groups:

Kinh (Viet) 86.2%

Tay 1.9%

Tai Ethnic 1.7%

Mường 1.5%

Khmer Krom (Khơ Me Crộm) 1.4%

Hoa 1.1%

Nùng 1.1%

Hmong 1%

others 4.1%
The Vietnamese business environment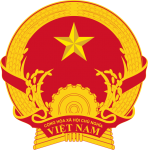 Vietnam has only been open to business with the rest of the world for a couple decades, but its people cultural inclination for work and entrepreneurship have quickly revived its economy. Moving from a traditional and agricultural economy, the Vietnamese has been slowly but steadily opening the economy to foreign investments and expats.
An attractive tax system has also been implemented to help the growth of local businesses and ensure the attractiveness of the country to foreign investors.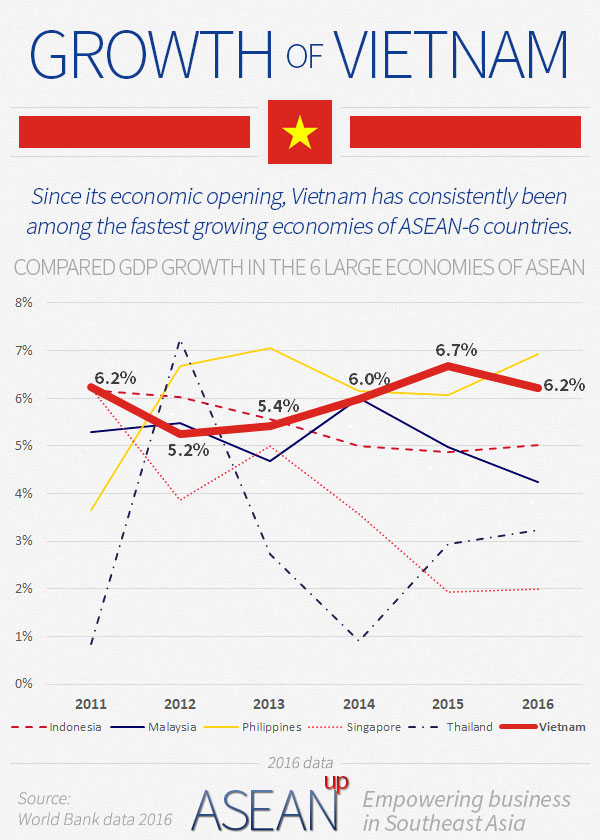 Key economic data of Vietnam
GDP (PPP): USD 590.077 Billion (2016 Estimate)
GDP per Capita (PPP): USD 6,377
GDP (Nominal): USD 219.379 Billion (2016 Estimate)
GDP per Capita (Nominal): USD 2,371
GDP Growth: 6.2% (2016)
GDP by sector: (2016 Estimate)

agriculture: 17%

industry: 39%

services: 44%

Labor force: 54.93 million (2016 Estimate)
Labor force by occupation: (2015 Estimate)

agriculture: 44.3%

industry: 22.9%

services: 32.8%

Unemployment: 3.7% (2016)
Inflation: 2.8% (2016)
Key sectors of Vietnam
Heavily reliant upon agriculture, Vietnam has grown to become a leader in the production and export of several commodities, especially rice, coffee, rubber and sea products.
The large population of Vietnam and important foreign investments have also made it an important production center for the textile industry, as well as for electronics.
Main industries of Vietnam
paddy rice

coffee

rubber

cotton

tea

pepper

soybeans

cashews

sugar cane

peanuts

bananas

poultry

fish

seafood
Vietnam digital
Its large population has made Vietnam one of the most active countries in the digital space. Pushed by the government which aims at developing new industries, the Vietnamese digital economy is also one of the active in Southeast Asia, with a developing startup landscape which is now also a hotbed for FinTech startups.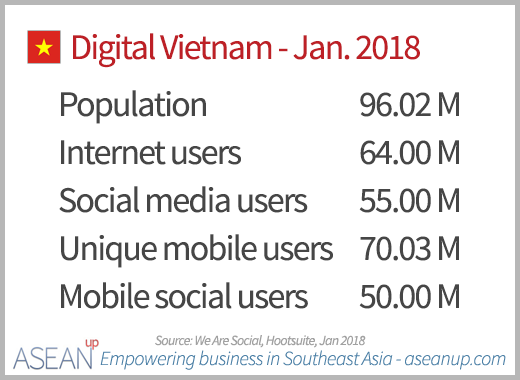 Vietnam for professionals and work
With its growing economy, Vietnam is becoming every day more attractive for foreign business and employees. Even though salaries tend to be lower than in other countries of the region, certain dynamic industries, such as IT, provide great compensations to live in Vietnam. 
Overview of business in Vietnam
Vietnam trade data
Having become a top exporters of several agricultural commodities, Vietnam is also a leader in export for the global textile industry and electronics.
Exports: USD 169.2 Billion (2016)
Export Goods:
clothes

shoes

marine products

crude oil

electronics

wooden products

rice

coffee

machinery
Main Export Partners: (2015 Estimate)
United States 21.2%

China 13.3%

Japan 8.4%

South Korea 5.5%

Germany 4.1%
Imports: USD 161 Billion (2016)
Import Goods:
machinery and equipment

petroleum products

steel products

raw materials for the clothing and shoe industries

electronics

plastics

automobiles
Main Import Partners: (2015 Estimate)
China 34.1%

South Korea 14.3%

Singapore 6.5%

Japan 6.4%

Hong Kong 5.1%

Thailand 4.5%
Overview of business in Vietnam – The Potential Of Vietnam